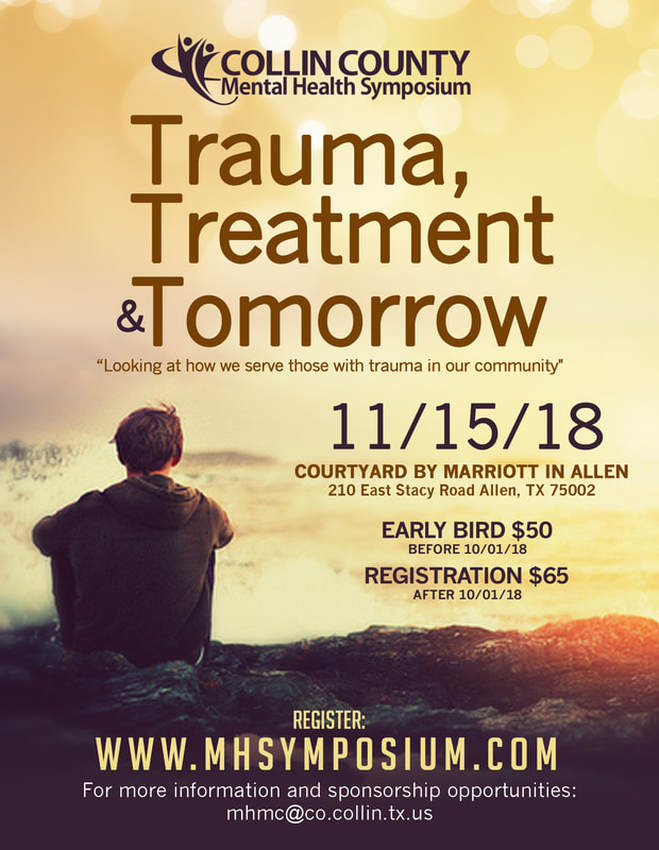 On November 15, 2018 Collin County Mental Health Symposium will present
"
Trauma, Treatment & Tomorrow" where stakeholders and mental health professionals will discuss trends, treatment, and dealing with the growing number of people struggling with mental illness in Collin County.
Sign on now to sponsor "Trauma, Treatment & Tomorrow".
This year's speakers include:
Kevin Hines, Kevin is a brain/mental health advocate, award winning global speaker, bestselling author and documentary filmmaker who reached audiences with his story of an unlikely survival and his strong will to live. Two years ago after he was diagnosed with bipolar disorder (19 years of age), he attempting ro take his life by jumping from the Golden Gate Bridge. He is one of the thirty-four to survive the fall, and the only on to regain full physical mobility. He is the only Golden Gate Bridge jump survivor who is actively spreading the message of living mentally healthy. The fall would break his body but not his spirit. Today, Kevin dedicates his life to saving lives by spreading the message of hope and sharing his art of living mentally well. He is one of the most respected and admired voices of lived experience. Kevin's story is a remarkable testimony to the strength of the human spirit and a reminder for us to love the life we have.
Frank DeAngelis, Staff member of Columbine High School in the Jeffco School District in Littleton, Colorado since 1979. Frank was involved in numerous professional activities and associations, and has received multiple awards for his teaching, leadership and coaching skills. He has also been called upon to speak about recovery after a school tragedy at a variety of conferences, and has assisted as a consultant after a number of other violent school events.
Brad Negrete, Licensed Mental Health Practitioner (NE) and Licensed Professional Counselor (TX), has been passionate about combining his expertise in the criminal justice and psychology fields since the early days of his
career.
Brad started his career in the criminal justice field in 2000, working at a maximum-security prison while attending college. After tragically losing his sister and three nephews, he decided to pursue dual degrees, earning a BA in Psychology in 2004 and a BS in Criminal Justice in 2005, both from the University of Nebraska at Omaha. Prior to Brad's 2017 relocation back to Nebraska, he was honored to be named the Texas CIT Mental Health Professional of the Year.
The symposium is expected to draw about 500 mental health professionals, hospitals, EMT's firefighters, law enforcement, attorneys, judges, detention officers and others. The marketing reach for this event is expected to be 50,000 individuals and industry professionals. Sponsors of this event will benefit from both traditional and new media while helping to further shape solutions, dialogue and understanding of mental illness.
​
---