THU | NOV 21 | 8A-5P
2019 Collin County Mental Health Symposium

Check-In & Registration: 7:45am-8:15am
Event: 8:00am-5:00pm
Location: Courtyard Marriott, 210 E. Stacy Rd, Allen, TX
---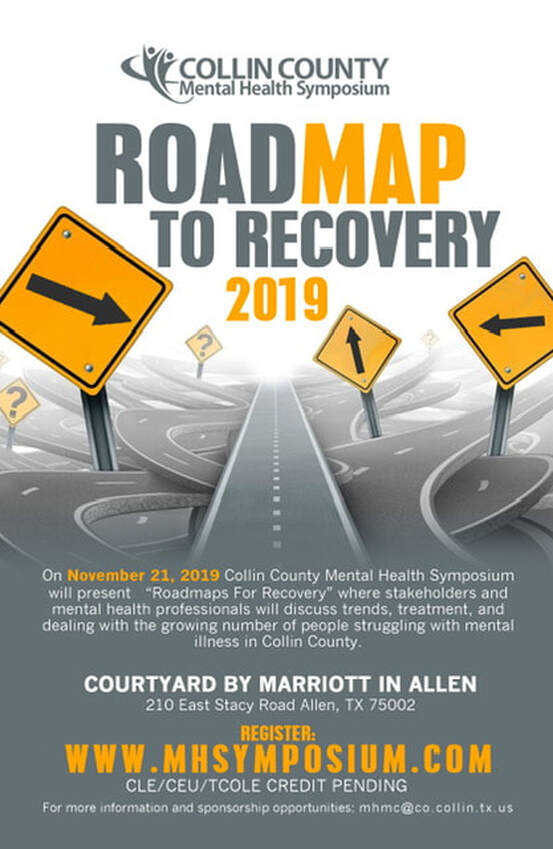 On November 21, 2019 Collin County Mental Health Symposium will present "Roadmaps For Recovery" where stakeholders and mental health professionals will discuss trends, treatment, and dealing with the growing number of people struggling with mental illness in Collin County.

Sign on now to sponsor "Roadmaps for Recovery".

This year's speakers include:

Kevin Briggs, Kevin is a retired California Highway Patrol officer who spent more than 17 years patrolling the Golden Gate Bridge. During that time he encountered hundreds of people who were troubled and had lost hope. They were ready to jump off the bridge and end their lives.

Although a trained negotiator, Briggs also relied on his compassion, gentle voice, eye contact, and his innate ability to "listening to understand". During his career, he encouraged more than 200 people not to jump, go over the bridge's rail or come back to solid ground from where they had been standing precariously.

These challenging, but rewarding efforts earned him the nickname, "Guardian of the Golden Gate Bridge". Retired, Briggs is now dedicating his life to promoting mental health awareness and suicide prevention across the globe.

Dr. Elizabeth McIngvale, Elizabeth is a clinical interest's focus on OCD, anxiety disorders, mental health stigma and access to mental health care. Dr. McIngvale sees patients with OCD and engages in clinical research at Baylor College of Medicine where she is an assistant professor in the Department of Psychiatry. She is the founder of the Peace of Mind Foundation, a non-profit foundation dedicated to OCD. Dr. McIngvale was the first-ever national spokesperson for the International Obsessive Compulsive Foundation where she now serves on their board of directors and is a licensed clinician in Texas. She received her bachelors and master's degrees in social work from Loyola University Chicago, her Ph.D. in social work at the University of Houston and is currently pursuing her MBA from Kellogg's School of Business Management at Northwestern University. Dr. McIngvale engages in advocacy, clinical work, research and teaching related to OCD. She is a renowned speaker on both the local and national level speaking on behalf of OCD, mental illness and mental health stigma. Dr. McIngvale has received numerous awards for her advocacy and impact on the mental health field and currently serves as a director on 6 boards. Dr. McIngvale is dedicated to giving a voice to the voiceless. Being on the faculty at Baylor College of Medicine allows her to continue her work in the field and to stamp out the stigma of mental illness every day.

B.J. Wagner, MS, B.J. joined the Meadows Mental Health Policy Institute in the Fall of 2015. In her role with MMHPI B.J. leads the Policy Institute's Smart Justice work, expanding this reach to the larger behavioral and health systems, assisting communities across Texas increase prevention and intervention services and reduce chronic crisis cycles and justice involvement for people with complex healthcare needs.

B.J. received recognition from the Texas Traumatic Brain Injury Advisory Council for contributions to elevating awareness of prevention and care needs for Texans living with brain injury. She is currently pursuing a PhD in Qualitative Criminology at the University of Texas at Dallas.

---
The symposium is expected to draw about 500 mental health professionals, hospitals, EMT's firefighters, law enforcement, attorneys, judges, detention officers and others. The marketing reach for this event is expected to be 50,000 individuals and industry professionals. Sponsors of this event will benefit from both traditional and new media while helping to further shape solutions, dialogue and understanding of mental illness. ​